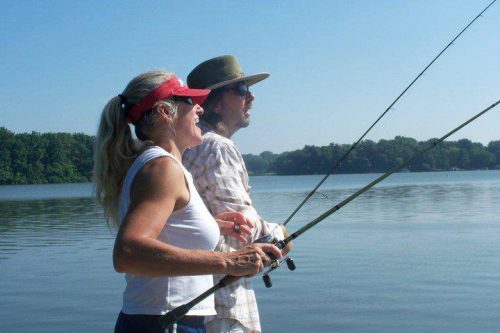 Rummaging through old photos, I paused and smiled at this one. Its one of my favorites a friend took circa 2008, when we had first moved to Portage Lakes. This picture is a perfect still frame of what bass fishing has become to me – a true love story.
Sixteen years ago, if you would have told me I would be running couples/ co-ed bass fishing tournaments, I'd have looked at you like you had two heads. I had never gone fishing in my life! My mental image was impaling worms onto hooks, and sitting with a line dangling for hours waiting for a fish to happen by and eat it.
Enter Erich.
I was bedazzled by the sparkly white, black & gold boat with the big, go fast motor that was parked in his driveway. I thought it was some sleek racing boat with its big decks, streamlined windshields, and sparkly fiberglass facade. I grew up water skiing on Chautauqua Lake and was very familiar with boats, but had never a "racing boat" like this before. Then he told me it was a FISHING boat.
A WHAT? A FISHING boat?
I had to have the whole set up explained to me – the trolling motor, the "hole shot", no worms just plastic lures – all of it. Hmmm, I thought, this is a cool way to get to know my new guy. I like being on the water and boating, and this bass fishing thing sounds kinda sporty. So I learned how to cast a spinning rod, tie a Palomar knot, and set the hook. The fist time I set hook and felt the fish tug back, bass fishing began flowing through my blood. Knowing I was going to set the fish free unharmed, it was a guilt-free connection to another life. I felt the powerful pulling as the fish tried to swim free. Holding it, then lowering it back in the water and watching it speed away sent a thrilling adrenaline rush through me. I was shaking!
Erich absolutely BEAMED with delight. His smile was so bright, it was as if HE had caught the fish! Sixteen years later, he still has the same look of joy every time I catch a fish. What started out as a cool new thing to try has become a special bond for us. It gives us common ground for conversation. I can relate to his love of the solitude of being on the water, the challenge of man vs. fish, the thrill of the catch and the satisfying exhaustion (or exasperation) at the end of a full day of fishing.
Over the years, Erich has patiently shared his knowledge, taught me how to use different lures, and patiently backed the boat up when I was yet again hung 30 feet high in a tree. I have learned so much – not only from him, but ABOUT him. Bass fishing is something that has bonded us as a couple. Our love affair with the sport has fueled our own love affair. We watch MLF together. We talk about techniques we want to try. We dream of the lakes we want to fish. We laugh about our backlashes and awkward moments. We share memories of those big bites. We have FUN with each other.
Hook, line and sinker, this girl is head over heels.. for the guy AND bass fishing!