Good Evening!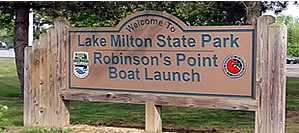 With the recent health news, I'm sure that you've been wondering what our status is with the 2020 Spring Fling and also the 2020 Chautauqua Clash in NY. We thank you for your continued trust, understanding, and patience as we work through this situation together.
Right now, we can confirm that all Ohio fishing tournament permits were cancelled through May 15. The ODNR Officer noted that it might be wise to consider the month of May, erring on the side of safety, to be 'off limits'.
We're anticipating a lot of changes for the better (pun intended) within the months of April & May. Please treat everyone with kindness and respect. Erich & I think of you ALL as neighbors in our fishing community.
Therefore, we've re-scheduled the 2020 Spring Fling to June 6, 2020. This is the earliest date we felt was possible to make it happen with the current situation and as it continues to unfold. And yes, we'd like to keep the Spring Fling as our first event this (and every) year, LOL. It's just two weeks prior to Chautauqua Lake #1, so we're going to hit the lakes fishing (a.k.a hit the ground running)!
Please stay tuned and we'll bring you updates as we go!
In friendship & fishing,
Maria, Tournament Director