Offering Mixed Team Anglers an Awesome Tournament Experience!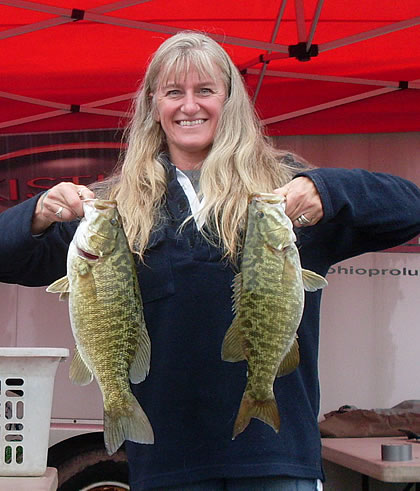 The Better Half Tour was created to get women involved in tournament bass fishing. After years of being the only woman regularly fishing in a local tournament series with my husband, I began asking the guys why their wives weren't fishing with them.
Taking those comments into consideration, I decided to create a tournament environment that was fun for women to try with their husbands, sons, friends, neighbors or brothers. First time anglers are encouraged to join us, there's many opportunities to win prizes.
The Better Half Tour provides a laid-back casual atmosphere (unlike the cut-throat attitude many tournaments carry). I'm proud to say that our tournaments have had a mother & son team as event champions, a woman catch the big fish of the tournament, and many, many women who have caught their first fish or bass – ever!
Better Half Tour tournaments have evolved and grown into a fun, love-to-fish family affair with many teams returning year after year. It is exciting to see it continue to grow, and our goal is to strengthen payouts along with enhanced participation, offering the best experience for every level of angler and team .
Better Half Tour is the best of both worlds for me – I get to share a sport he loves with the man I love… and have some girls to trade fish stories with, too!
---
Better Half Tour Features

Unique male/ female team format attracting a growing population of female anglers of all ages.
One in four teams – the top 25% – receive cash prizes.
Longevity & growth – 2018 will be our 7th year hosting tournaments.
> Started with nine(9) teams at our inaugural Fall tournament in September 2012
> We've grown to 36 teams at our Spring Fling the past two(2) seasons
> A Fall Classic high of 22 teams at the Better Half Tour Fall Classic in 2017.
Post-tournament raffle for ALL teams with 'his & her' sponsor prizes.
Many additional chances to win with two(2) Record Breaker Bonus Awards
> Big Bass Option
> NEW for 2018 – Total Season Weight Championship.
Tournaments in two(2) states (Ohio and New York) attended by anglers from four(4) states – Ohio, Pennsylvania, New York and West Virginia.
Affordable entry fees reaches out to college teams, first-timer anglers and parent-child teams.
---
"What a great way to share some fun with your spouse in the great outdoors and meet some really nice people!"
April Z – May 2014
"Very well ran tournament! Good turn out and great payouts"
Rocco M.- May 2017
"Great tournament very well ran and an awesome atmosphere"
Andrew W. – May 2017
---
Better Half Tour Sponsorship Benefits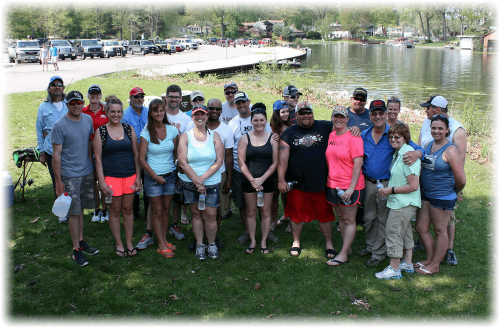 As a Better Half Tour sponsor, your logo/name will appear on all of our:
Banners displayed at tournament registration & weigh ins
Tournament Flyers & Registration forms
Website – including links to your website, if applicable
Facebook page – we share your events and posts as well as market you as a sponsor
T-shirts: at $100 level & up
Our objectives through sponsorship:
Achieve 100% payout of entry fees (currently 80%) to top 25% of the field by covering the cost of permits, insurance, print materials, food & beverage, weigh-in supplies & equipment, etc.
Increase the payout of Record Breaker Bonuses. Currently, Total Single Event Weight & Big Bass Record Breaker award is $50 each (currently the Total Weight Record is 16.10# & Big Bass is 6.35#).
Generate sufficient sponsor revenue to order Better Half Tour t-shirts for all registered anglers. All sponsor logos printed on the t-shirt.
Increase online advertising budget to increase reach and promote participation.
Increase "his & her" prizes and product donations for our post-tournament raffle, so a minimum of 50-75% of teams receive prizes.
[one_half padding="0 8px 0 8px"]
Sponsor Levels:
__ $50 __$100 __ $250
Record Breaker Sponsor: (only pays if someone breaks the current record)
__$100 __$250 __$500
I will donate product for:
__ Spring Fling __Weekend Getaway __Fall Classic
[/one_half]
[one_half_last padding="0 8px 0 8px"]
Describe Donation:____________________________________________
_____________________________________________________________
_____________________________________________________________
Contact Name:_________________________
Contact Email:__________________________
Contact Phone #:________________________
Please return and make checks payable to: FUTUREALM, LLC
and mail to: 3465 S. Arlington Rd.
Ste. E, #133
Akron, OH 44312
[/one_half_last]
---
"This tournament is ran very well. It is always a lot of fun. They always give away good prizes after the weigh-in. I have fished The Better Half tournaments since day 1 and it is something my fiancé & I will always do. We just love it"
Joey & Bekka – Sept. 2016
"This is a great tournament with great people/couples…Give it a try !"
Scott P. – Sept. 2016
---