Better Half Tour
2019 Weekend Getaway
July 27, 2019 (8:00a-3:00p)
Long Point State Park
$75 Tournament Entry Fee
$10 BIG Bass (optional)
Bemus Point, NY
July 13, 2020, 5:40 pm

current pressure: 30 in
humidity: 58%
wind speed: 13 mph WNW
wind gusts: 13 mph
sunrise: 5:54 am
sunset: 8:53 pm
Forecast July 13, 2020
day

Thunderstorms
72°F
wind speed: 9 mph WNW
wind gusts: 16 mph
Forecast July 14, 2020
day

Partly sunny
74°F
wind speed: 7 mph NW
wind gusts: 9 mph
Forecast July 15, 2020
day

Partly sunny
82°F
wind speed: 7 mph SSE
wind gusts: 9 mph
3rd Annual Weekend Getaway @
Chautauqua Lake, NY - July 27, 2019
2019 Chautauqua Lake CHAMPS – Mrs. Bekka & Mr. Joey Reed
Long Point State Park - 8:00a Launch / 3:00p Check-In
WEEKEND GETAWAY ROSTER:
B. Reed & J. Reed (L)
M. Williams & M. Williams (L)
T. McKibben & T. McKibben (L)
M. Schlarb & L. Schlarb (L)
E. Everhart & L. Everhart (L)
J. Smith & P. Smith (L)
R. Helmuth & J. Helmuth
T. Bury & K. Beck-Powell
A. Kistler & J. Raach
R. Gotham & S. Gotham
S. Hughes & L. Hughes
J. Metrick & J. Metrick
J. O'Neill & A. Mammone
K. Hout & J. Hout
D. Iorio & C. Micco
B. Burford & C. Burford
J. Lipo & S. Lipo
J. Galford & S. Galford
M. Clay & A. Clay
R. Edwards & V. Edwards
S. Guenot & T. Guenot
S. Planty & T. Planty
T. Gannoe & M. Keas
K. Burke & B. Burke
E. McGrew & S. McGrew
J. Pflugh & K. Melko
T. Johnston & T. Johnson
C. Jones & K. Jones
K. Grimes & L. Grimes
B. Fuller & C. Gordon
C. Ahmadian & J. Stoltz
N. Prvonozac & T. Prvonozac
Crew Boats:
A. S. Westfall ~ W. Westfall
B. M. Licht ~ E. Licht
2019 Weekend Getaway @ Chautauqua Lake ~ Better Half Tour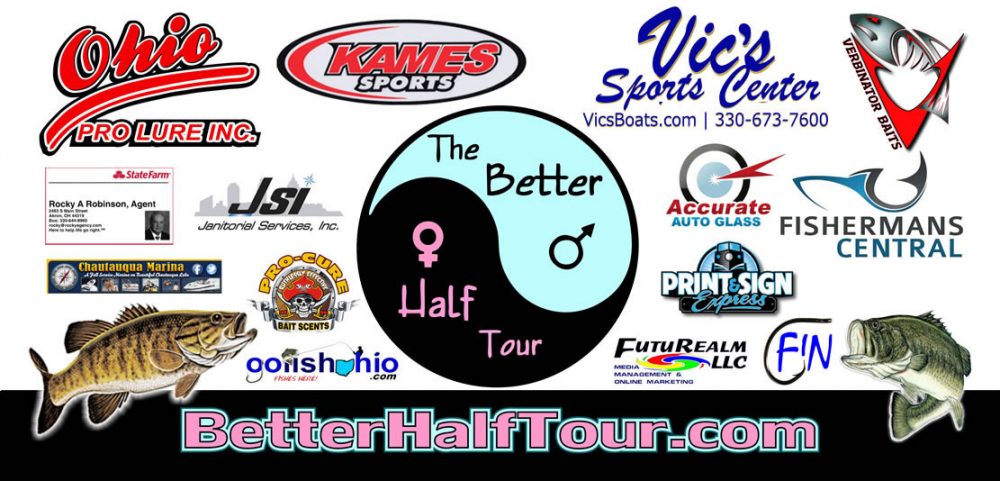 2019 Weekend Getaway @ Chautauqua Lake, NY ~ TOURNAMENT RESULTS 7/27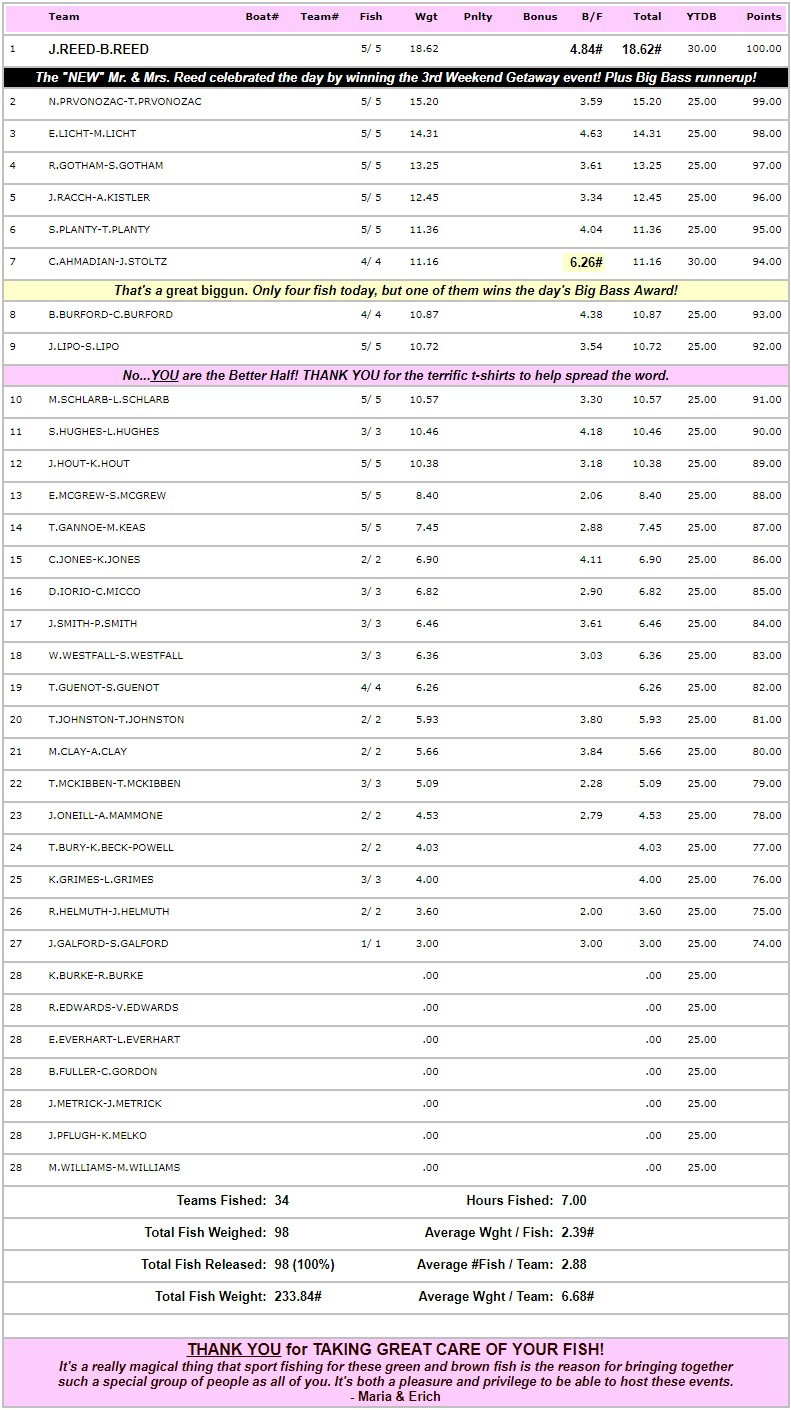 Doug Iorio & Carolyn Micco
Better Half Tour Shirt Logo
Team Lipo - Who IS the Better Half?
Born on July 22, 1844, the Reverend William Archibald Spooner, a lecturer, became known for what are now called 'spoonerisms' – slips of the tongue where the consonants of words are reversed. One of his flubs was issued as he officiated at a wedding: "Son, it is now kisstomary to cuss the bride."
Boat trouble on Chautauqua Lake? Here's who to call...
Chautauqua Lake Marina
Mayville, NY (North of I-86)
716-753-3913
Asheville Bay Marina
Asheville, NY (South of I-86)
716-763-6676
Smith Boys Marina
Asheville, NY (South of I-86)
716-763-0410
2019 Better Half Tour ~ Championship Points Standings